2 YEAR WARRANTY!
All of Olight products are manufactured with the highest quality materials and with great focus on craftsmanship. They are designed and made to be able to thrive in the harshest environments and most severe conditions. You can bring an Olight into a military task zone or a harsh outdoor survival session. It won't disappoint you. Olight knows the importance when your very life depends on it. After many field applications with police officers and soldiers in real combat environments, Olight has earned the reputation of being a "no-brainer" when compared with the competition. You can be sure that Olight is the best.
The M series is specially designed for tactical applications. Engineered knurling, dual striking bezels, powerful output, a perfect beam and full sets of accessories for different applications make the M series perfect for police, military and hunters.
Olight M20 Warrior R5 320 Lumen Tactical Flashlight
The M20 Warrior R5 is the upgraded version of the M20 Warrior R2. The M20 Warrior R5 has the XP-G R5 LED which ca produce 320 Lumens of output making the R5 the new standard for law enforcement and military.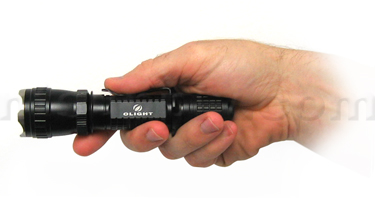 Specifications:
LED: Cree XP-G R5, life span up to 50,000 hours
Maximum output: 320 Lumens
Dimensions: L = 5.67" W = .98" Striking bezel = 1.31"
Weight: 4.25oz (excluding battery)
Battery: uses 2 CR123A 3.0v Lithium cells or Rechargeable Li-ion 3.7v cells either 2 RCR123A/16340, 1 3.7v Li-ion18650 or 1 17670
Functions: Three brightness levels plus strobe, 320 lm/ 4 hours- 110 lm / 12 hours- 9 lm / 150 hours
Accessories included: Holster, Lanyard, Spare O-rings, Spare Rubber switch boot, Cr123A Battery magazine

Features:

World class super bright Cree XP-G R5 LED
Three output levels and strobe, simple interface to adjust output, loosen head then retighten to select modes.
Automatic memory function. remembers last used setting and can be preset to specific output for instant access
Multiple battery choices, uses both Li-ion Rechargeable and non rechargeable Lithium Batteries to provide the ultimate power to weight ratio and reliability.
Ultra Efficient Advanced Digital Power Management System for a smooth and even brightness over the duration of battery life.
Reverse polarity protection circuit to protect electronics against damage caused by battery being installed incorrectly.
Superior heat sink quick dispersion of heat to protect LED and electronic components and ensure long life.
Ergonomic design, solid aluminum construction.
Tough durable Type III Hard Anodization.
Built to meet Mil-spec: MIL-STD-810F.
O-ring sealed to provide excellent water resistance and long service life.
Grip ring with anti-tolling design, enabling use with the different tactical holds, removable to convert to smoother straight body.
Stainless Steel strike bezel (removable)
Stainless Steel pocket clip (removable)
Ultra Clear Glass lens, non scratch with Anti-Reflective Coating.
Heavy duty quick release lanyard to prevent loss and easy access.
Interchangeable reflectors.
Full Textured Reflector provides a perfectly centered flawless beam reaching distances not seen in other LED lights.
Optional Smooth Reflector used to gain even greater distance for further targets, ideal when used as a weapon light.
Battery Magazine used with CR123A batteries, holds batteries firmly to provide excellent continuity and battery life under heavy shock or recoil.
In the box:
| | |
| --- | --- |
| M2 Warrior R5 | Lanyard |
| | |
| Spare O rings and Rubber Switch Boot | M20 Warrior R5 Holster |
| | |
| Battery Magazine | |
| | |