2 YEAR WARRANTY!
All of Olight products are manufactured with the highest quality materials and with great focus on craftsmanship. They are designed and made to be able to thrive in the harshest environments and most severe conditions. You can bring an Olight into a military task zone or a harsh outdoor survival session. It won't disappoint you. Olight knows the importance when your very life depends on it. After many field applications with police officers and soldiers in real combat environments, Olight has earned the reputation of being a "no-brainer" when compared with the competition. You can be sure that Olight is the best.
The SR series has super powerful output similar to HID's and an unbelievably long throw. The SR series means a new era for LED flashlights. Primarily designed for search and rescue, the high quality and tough build of the SR series makes it ideal for any situation. There are two brightness levels provided for different applications; low level for general use and high level for long distance searching.
Olight SR-50 Intimidator Flashlight
The SR-50 features the Luminous SST-50 LED with a maximum output of 800 lumens and a smooth reflector which provides a 700m long throw! With powerful output and portable size, the SR-50 is perfect fit for almost any situation.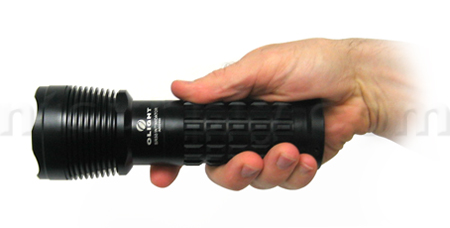 Specifications:
LED: Luminous SST-50
Maximum output: 800 Lumens
Dimensions: L = 7.28" W = 2.48"
Weight: 13.97oz (excluding battery)
Battery: uses 6 CR123A batteries
Functions: Two brightness levels plus strobe, 800 lm/ 1.5 hours - 200 lm / 10 hours Strobe: 10Hz / 3 hours
Accessories included: Holster, 2 O rings, lanyard.

Features:

Max output 800 Lumens
Smooth reflector offers max 700m long throw.
Excellent tridimensional heat dissipation ability.
Easy touching side switch for turning on/off the light and transferring modes.
Access to strobe directly.
Auto-memorize level last used.
Mil-specs: MIL-STD-810F
Highly water resistant to IPX-8
Anti-shattering ultra clear lens, anti-scratching, anti-slip function.
Tough and rugged body with noblest knurling offering a firm grip.
Stand firmly on tail for hands free illumination.
Relatively portable size for easy carry and grip while retaining maximum power.
In the box:
| | |
| --- | --- |
| SR-50 | SR-50 Holster |
| | |
| Lanyard | O rings |
| | |
| | |
| | |