A flashlight is an essential tool and functionality should never suffer for the sake of design. The INOVA X-Series is an example of one of those rare product offerings that effectively combines brilliant engineering and bold looks in a highly purposeful package.
Ruggedly constructed and beautifully finished, the X-Series started the LED flashlight revolution. Today, the X-Series is still recognized as being the ultimate collection of flashlights in the field, and has earned the praise of countless users who have come to depend on it, as well as curators at one of the world's most famous museums of modern art where an X5 has been placed on permanent display.
Long hours of useable light, powerful beams, unmatched quality and superior styling all make the X-Series the choice for those who want a flashlight that provides uncompromising performance.
Many miniature flashlights offer mini capabilities, but not the INOVA X1. It is a serious flashlight that offers engineering refinement and illumination that is exceptional for its 4" size. Ideal for a glove box, purse, briefcase and more, the X1 utilizes world-class LED technology for a potent beam that cuts through the dark like nothing else in its category.
Features:
. Patented precision optical system for superior light projection
. Mineral glass optical window has double-sided AR coating and Teflon® seal to withstand environmental pressure
. Stainless Steal head protects optical system and O-ring provides an ultra-tight seal
. High Powered energy-efficient lifetime LED
. Water resistant construction protects from the elements
. Aerospace grade aluminum with military spec anodized finish
. Anodized finishes in black and titanium
. O-Ring ensures seal integrity and threads are anodized for reliability
. Generous size lanyard hole for easy threading
. Tactical end-cap switch activates momentary on, constant on/off and lockout mode

A series of half turns to the switch-cap enables constant on, momentary on and constant off.

Anodized threads provide durability and protection from the elements.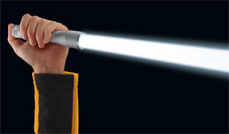 The X-series feature a 3-way tactical switch.